Online Dating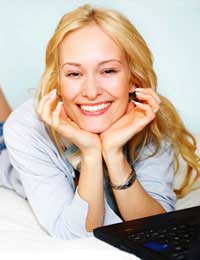 Today online dating is a fairly common occurrence. Hundreds of millions of people worldwide have tried online dating, and serious relationships and even marriage can be the successful outcome of an Internet introduction. Unfortunately, because online dating relies on the Internet as an intermediary, there can be threats to your safety and security if you are not careful. To minimise these risks, remember to only use registered dating site, to take steps to protect your identity, to meet potential partners in public places and to remain polite throughout the process.
Use Registered Sites
Anyone could purchase a website and call it an online dating site, but to make sure that you are only working with professionals who have strict security measures in place do some research on potential sites. Match.com for example is known around the world for matching up potentially suited people for romantic purposes and is actually a Guinness World Record Holder for being the World's Largest Online Dating Website. But a page titled "Oliver's Online Dating and Mail-Order Brides" is probably not something that you want to be associated with. Looking for "About Us" and "Contact Us" links is useful, and links to "Terms and Conditions" or something such as "Member Safety" will also help answer your questions about their services.
Protect Your Identity
Absolute anonymity is best when you are just starting out with online dating, so choose a suitable screen name to protect your identity. Don't include any information such as your last name, place of employment, address, telephone numbers or even personal email address in your free profile. Also look for clues that those who you are interacting with are really who they say they are. Inconsistent information about age, interest, employment, education and/or past relationships can all be indications that something fishy is going on. When you are ready to reveal more about yourself, do so slowly. It may take a few extra weeks, but your safety and security is worth it.
Meet In Public
If you find that you are enthusiastic to meet up with someone you meet online, do so in a public place. In the event that anything untoward does happen, being in public means that a greater number of objective witnesses will be there to both act in your defence and report what happened at a later time. Staying in a public place also reduces any pressures that might come with being in a private home. Besides, if the date turns out to be a real dud then at least you've got multiple exit strategies in a public place. If you are planning to travel to meet up with someone from online, remember to book your own transportation and hotel room. Do not stay at a private residence or remain reliant on this person to get your around. If, once you arrive in a new town/city/country, you feel unsafe, there is no shame in turning around and going home.
Remain Polite
Whether or not your Internet friend turns out to be your soul mate, endeavour to remain polite to him or her both during and after your meeting. Not everyone takes rejection well, even if neither of you had much invested in the relationship yet, so be firm but friendly. If, after you've made it clear that you have no interest in developing a relationship, this person continues to contact you in a harassing manner, notify your dating site of this misconduct. This may seem unnecessary, but it's better to take actions to protect yourself now than to live to regret it later.
You might also like...