Cyber Stalking and Harassment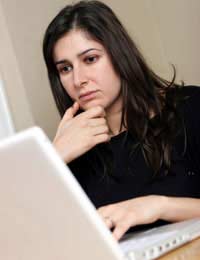 Just a decade ago cyber stalking and harassment didn't even exist, but as the internet's popularity has grown and people conduct a lot more of their socialising electronically, the opportunities for harassment have grown. If someone is paying you unwanted attention or posting disparaging remarks about you, it is important you treat the incidents seriously.
Myspace
With the invention of Myspace and more recently the surge in facebook, people have much more of an online presence with their lives laid out for others to see. Anybody can surf your Myspace page without your knowledge so be careful about how much information you post on it.
On Facebook you have to accept someone as a friend before they can see your profile, so be picky about who you let into your online life. If someone creates a bogus profile about you, posts nasty remarks or does anything offensive, then report it straight away to the website moderators. Most companies are very vigilant about stopping any misuse of their sites.
Keep a Log
Whether the harassment you are experiencing is in person or on the internet, it is important to keep a record of incidences. In fact it is even easier to do this with cyber stalking as you automatically have the evidence. Print off any threatening or unwanted emails you have received and keep them in a file. Do the same with any messages on your Myspace or Facebook pages. Additionally it is still a good idea to log when the event took place and what it was. These records will be invaluable if you have to contact the police or take the matter any further.
Don't Give Out Any More Details
As upsetting and disturbing as cyber stalking can be, it isn't as scary as the same person harassing you over the phone or turning up on your doorstep. Make very sure that your stalker is not able to get hold of any more of your personal details. Check that you haven't posted your phone number, address or details of your movements online.
Tell Someone
In the same way that stalking and harassment needs to be stopped if the stalker is doing it in person, it also needs to be closely monitored online. Make sure you do not suffer any harassment alone and think that you are in any way to blame. Tell a friend or family member what is happening and clearly explain the incidents by showing them your records. If it seems to be getting out of control and your stalker refuses to leave you alone, then you are well within your rights to report them to the police. Don't think that just because it is over the internet they won't take it seriously or that the person isn't really doing anything wrong. Cyber stalking and harassment could just be the start and it is important to stop it before it progresses any further.
While you may feel like you should just brush it off, cyber stalking and harassment is not something to ignore. By taking the same steps you would employ for any other harassment you can show your stalker that you will not accept their behaviour and hopefully stop them before they get out of control.
You might also like...