How to Date Safely Online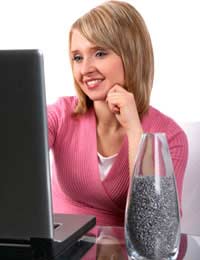 Online dating is all the rage. Whether you are just looking for a quick fling or a more meaningful partnership, there is a site out there for everyone. It can be a great way to meet people and be matched with others without the pressure of interacting face to face, but its anonymity can also be a danger.
Join a Reputable Site
Online dating has been a fast growing industry with thousands of sites springing up over the last decade. They range in size, approach, expense and safety so make sure you do your research before you begin. Some of the popular sites are free to use and just involve you posting an ad for yourself much like you would for a car or sofa. At the other end of the scale you have subscription sites where you have a detailed profile and membership is regulated.
The free sites are easy to use and can be good if you are just looking for a quick bit of fun but you need to be aware that nobody is looking out for your safety and there is no way of telling if the people replying are genuine. By joining a more established and well run site you will have to pay more and put more time and effort into it, but at least you know someone has details of you date. Saying that, people can still lie and no site can guarantee that all their matches are safe or sane.
Don't Give out too Much Information
Fraudsters are very adept at getting information from you without you really realising it. It may sound obvious but never give out personal details about yourself such as your address, exactly where you work or financial details. If someone seems to be asking too many questions, be wary and only agree to give out your picture if they do the same.
Be Sure they are who they Say they are
It is not only naïve teenagers that can be conned by people on the internet. Deceptions can be as innocent as posting a very flattering photo of themselves all the way to lying about being married or every aspect of their identity. It is difficult to really know if someone is lying, as those who do are often very good at it. There are a few steps you can take to try and regulate them though. Firstly get their phone number if you are agreeing to meet and ring it to make sure they answer. Anyone can set up an email address and it is difficult to trace. Also, ask a few questions about their family, career and home life. If they seem vague or contradict themselves this can be a good warning sign. Finally it is always worth Googling them.
Never Agree to Meet at Home
Like any blind date it is important that you meet in a public place where there are plenty of other people around. Never agree for them to pick you up or to meet at their house. There is plenty of time for that when you know more about them.
Don't be afraid to give online dating a go. Many happy couples have met this way and it can be a rewarding experience. Just be aware of the lures of the internet and the ease by which people can obscure their true identity.
You might also like...