Staying Safe on a First Date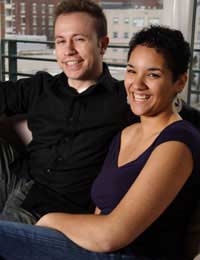 First dates are nerve wracking experiences at the best of times. Deciding what to wear, where to go, thinking up scintillating conversation and worrying about making a good impression. None of these things matter though if you don't feel safe and secure. By taking care of the safety aspect you are then free to enjoy your evening and make your date see what a wonderful person you are.
Meet in a Public Place
All the traditional first date locations are sensible and safe places – which makes the process a little easier. Bars, restaurants, the cinema – anywhere that is a public place with lots of other people around is a good choice. Don't be swayed by your date to go somewhere more remote however romantic/sexy/exciting they say it is. There will be plenty more dates for that, while for now just stick with the simple but safe basics.
Tell Someone
It is a good idea to give the details of your date to a trustworthy friend or family member. Tell them where you are going, with whom and when you plan to be back. Make sure they will check up on you if they don't hear from you.
Don't Give Away too Much
Obviously you want to get to know your date and don't want to seem like you are holding too much back. However, if they are asking too many personal questions then be wary and only give away so much.
Back to Theirs?
The best advice is not to sleep with anyone on your first date, but in reality sometimes it's going to happen. If you can, go back to yours so you are on familiar ground and have more control over the situation. If you decide to go back to theirs, make sure you know exactly where you are and take a reputable taxi, not a lift in their car or one of their friends.
Know How You Will Get Home
It is easy to get caught up in the excitement of the first date and spend plenty of time deciding what to wear but not how you are going to get home. Make sure you know this in advance and have numbers of good taxi firms and enough money set aside to pay for your ride home.
Have a Get Out Clause
If the date is going really badly, or you are feeling uncomfortable or unsafe then you need to be able to get away. If you have followed the rest of the advice this shouldn't be difficult. As long as you are in a public place, can call a taxi and have enough money to pay for it then you are in a good position. If you are not sure how to get away then it is a good idea to have a friend you can call from the toilets to 'accidentally' turn up at the place.
There is no need to add any stress to an event which is already making your heart race. So think about your safety in advance and then you can spend the evening looking good, having great conversation and working hard to get a second, safe date.
You might also like...
@jo080448 Of course you are - you did the right thing by doing what you felt comfortable with.
Heidi High
- 17-Oct-14 @ 9:46 AM
maybe he wasnt all bad but I'm entitled to change my mind arent I if I feel uncomfortable with a guy.
jo080448
- 16-Oct-14 @ 12:48 PM
@jo080448 - at least he said he was happy to go on the next date though - maybe it wasn't all bad.
Heidi High
- 16-Oct-14 @ 11:36 AM
I was due to have had a first date with a guy off a dating site and I had arranged a date with him and he had phoned me to rearrange it and had said about picking me up at home on a first date and I didnt know him so I said thanks for the offer but no thanks as I would rather make my own way to the date and home because he was someone I didn't know and he had said about a date involving getting in his car when I didn't know him which I said no to as I don't go in cars with people I don't know very well.Needless to say the said rearranged date never happened because I felt uneasy so I rang the guy up and cancelled it out of manners and wont be bothering with him again!I'm glad I was able to have the confidence to say thanks but no thanks to something I felt uncomfortable with.I felt I was being silly by cancelling but I think its better safe than sorry!
jo080448
- 15-Oct-14 @ 10:35 PM