Safe Speed Dating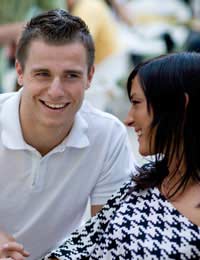 Speed dating was hardly heard of five years ago but now it has rocketed into a popular way to meet people. When everyone is working hard and don't have much time, cramming a number of potential dates into a short time can seem like a great idea. Most of the time speed dating is just a bit of harmless fun but like any kind of dating you need to be sensible and not let your guard down too quickly.
Go With a Friend
The likelihood is that you will decide you go to a speed dating event with a friend. This is a very good idea as you can keep an eye on each other and also have a perfectly good reason why you can't leave with someone else. Before you go, discuss what your ground rules are and stick to them. Agree that neither of you will leave the other and pay attention to whether your friend is trying to ward of unwanted attention.
Don't Get Personal
Speed dating is different to just meeting a person in a bar as it is an organised event that is being regulated by someone. This is a good thing as it means that any further contact can be made through the organised channels. If you meet someone who wants to take your details be careful about giving them out. It is probably fine to pass on your mobile number but be wary about telling them where you live or work. Often, you can divulge these details during conversation without really realising you are doing so and there are people who are skilled in making you do this.
Report
When you are speed dating you only have a few minutes to make a first impression. However first impressions can be very strong and are often right so trust your instinct. If someone you have met seems strange or you fell uncomfortable or threatened around them then report it to the organisers. Speed dating should be a fun, laid back event and you don't want anybody creepy or disrespectful ruining your evening.
Three's a Crowd
In the same way that you will probably go speed dating with a friend, so will other people. This is fine but you need to be aware that they may be working together with someone else. If you decide to leave the venue with someone it would be a bit scary to suddenly discover that you have company. Stick with your friend, socialise inside the event and leave any further contact to another time when you can be in more control of the situation.There is no reason why speed dating can't be a fun, light-hearted night out with your friends that could potentially lead to love. However, as with any dating situation you need to trust your instinct, be careful and not let your guard down too soon. There will be lots of single people at the event, most of whom will be there for the same reasons as you. But there may also be a few who are using the event for less friendly means and you don't want to let them ruin your evening.
You might also like...