Picking a Safe Date Location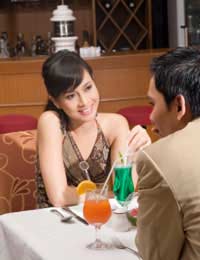 Your first priority on a date is usually to make a good impression and pick a place where you are both going to have fun and enjoy each other's company. These are legitimate goals but you also need to take into account whether your choice of location is safe. By taking a few moments to assess a location in advance, you can spend the rest of the night worrying about having a good time.
Public Places
The best place to choose to go on a date is somewhere where there will be lots of other people. This may not be the most intimate or original choice but it is by far the safest. This allows you to get to know your date in a safe environment and if you decide you are not comfortable you can leave easily without worrying about your safety. If possible also make it in a place with easy transport links for leaving at the end of the evening. For example, why not try:
Bar or restaurant
Cinema
Bowling alley
Nightclub
Concert
Outdoors
There is no reason why your date needs to be confined indoors to be safe. Just follow the same safety advice and pick a place that is in a public area and not remote or secluded. In cities these places are easy to find. If you live further into the suburbs or countryside then it is still possible to find a safe outdoor date you just need to give it a bit more thought. Here are some places to get started:
In a city park
At the zoo
Outdoor ice rink
Playing a game of Tennis
Horse riding
Group Dates
If you don't want to go somewhere that is busy, loud and overrun with people there are some other possibilities. Choosing a place where your friends will be or where there will be an organised group is a good way to be safe. Why not try a double date? This way you can have an intimate conversation with your date but the security of knowing you have a friend there to help you. Or you could go to a house party where there are plenty of people nearby by, but it will probably be easy to find a space for some alone time.
Unsafe Places
There are a few types of places that you should avoid when picking a date location. Anywhere that it is remote, has nobody else around or is difficult to escape from should not be chosen. Think carefully before you decide to meet someone and make sure that the venue meets your safety criteria. Places to avoid include:
Back at their place
Driving somewhere
In a remote location
In the park or on the beach at night
A location that is difficult to get to
When thinking about your date location it is great to pick somewhere that is fun and where you can get to know each other but also factor in the safety aspect. There are all sorts of places that are perfectly safe and will have other people around so you shouldn't need to go somewhere that isn't. If your date suggests somewhere you don't feel comfortable with don't go.
You might also like...