Stay Safe on Blind Dates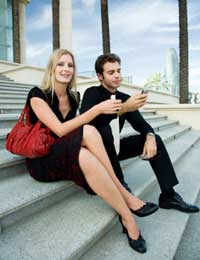 Blind dates can be a fun way to meet people that you might otherwise never know. Most people that you will meet will be nice, trustworthy individuals but unfortunately there is a small percentage that aren't and it is very difficult to tell which ones these are. Don't be put off from giving it a go, just follow a few simple precautions to make sure your date is blinding.
Go by Recommendation
A lot of blind dates are set up by friends or family that know both parties. This is the safest form of blind date as if someone comes by recommendation of someone you trust then that is a good start. Don't fall into the trap of thinking this means you are perfectly safe though. Attackers are usually very good at fooling people into trusting them. Still be sure to follow the rest of this advice.
Pick a Venue
The easiest way to stay safe is to make sure there are other people around. Pick a public venue for your first date such as a busy bar or restaurant. Although you may feel more relaxed as evening progresses never be persuaded to go somewhere more remote with your date or agree to get into their car. There is plenty of time to go somewhere more intimate or back to theirs. If you really can't wait then go back to yours but this then allows them to know where you live, which is also not a great idea.
Tell Someone Where you are Going
It is important that a friend or family member knows about your date, where you intend to go and when you intend to be back. Leave this information with someone trustworthy and call or text them when you get home so they know you are safe. Be sure that they will check up on you if they don't hear from you.
Don't Give out Personal Information
In the age of the internet it is very easy for people to find out personal information about you but there is no need to make it any easier for them. Giving out an email address or mobile phone number is fairly harmless but be wary about giving away anything else. Don't give out your address or invite your date back to your house. Also, don't give out any other details that they could potentially use to harass or stalk you.
Have Some Information About the Person
It can be helpful to tell someone some details about your date such as what they look like. If you haven't seen a picture of your date beforehand then text the information at some point in the evening. Also, if you have communicated with them already then you will have their email address or phone number. Give this information to somebody else so the person can be identified if need be.
It may sound like this is all a bit paranoid and too much like hard work to bother, but just a few safety precautions can make a huge difference if something unforeseen happens.
You might also like...