Is She Genuine or Looking for a Visa?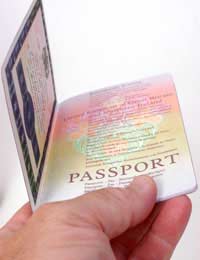 Q.
I am worried about my brother... he is vulnerable and has been chatting at night to a girl from Africa who is talking about marriage, kids etc. She says her dad was killed when she was young, she used to live in england and wants to come back and marry.
He allowed her to delete his profile on that site and seems very excited about her. I told him she is probably looking for a visa to get into the country. Was I too harsh or are my fears all too real?
(Mrs L H, 11 September 2008)

A.
You obviously care deeply about your brother and are right to question this girl's intentions but be careful not to jump to conclusions. There are a lot of scare stories about people taking advantage of others over the internet but there are also millions of people that just use the web to make friends and find support.
It sounds like your brother, as a vulnerable young man, could benefit from having someone to talk to and his relationship with this girl may not necessarily be a bad thing. If it is making him happy and giving him someone to share his feelings with, then it may actually help him and you should try and see it as a positive thing.
However, he needs to make sure that she is being honest with him about her situation and her feelings for him. When people are communicating on the internet it can be difficult to gauge if they are being genuine and it is sensible to question whether they are telling the truth. It is worth asking her more about her story to see if any holes begin to appear. If she is defensive, turns things around on him, or changes her story, then it is likely that she isn't telling the truth.
Unless they plan to meet then their communication is not doing any harm. If they do plan to meet in person then you need to make him aware of what she might be looking for, without scaring him. Emphasise the fact that if she is genuine then she will be willing to take her time so that she and your brother can get to know each other well before making any rash decisions. Tell him not to make any promises to her and not to raise his expectations of their relationship too high.
Talk to your brother openly and calmly about your concerns and make it clear that you just want him to be happy. If he feels that you are trying to stifle him then he will be more likely to go against you. Encourage him to ask the girl questions and tell her that he wants to do things properly and get to know her before taking their relationship any further.
You might also like...