Instinct Kept Me Safe When Dating: A Case Study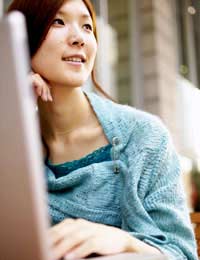 Hannah, 21, has always followed her heart but she never knew that listening to her feelings might one day save her from a terrifying situation.
"My mum has always said to me 'listen to your heart and not your head' and although sometimes, I have thought my heart isn't very trustworthy, I am glad I listened to it on this occasion. It's scary to think what might have happened to me if I had ignored my instinct and gone against my better judgement.
"I met Mark in a bar when I was out with my friends one night. He wasn't my usual type but he was so charismatic, he had me laughing all night long and when he asked me out on a date, I thought – why not? The next week I got myself ready and met him in the same bar for a drink. He made me feel relaxed straight away and we were soon chatting away like old friends. When I went to the loo I texted my friend to tell her how well it was going and what a great guy he was."
Change Of Heart
"We had been at the bar for about 3 hours and it was beginning to get a bit late but we were having so much fun we decided to move on somewhere else. When we left the bar Mark told me that he knew a great little bar out of town that we should check out. At first it seemed like a good idea but as we walked towards his car I became less comfortable with it. I asked him whether he would mind if we just stayed in town but he was very insistent and made a joke about 'don't you trust me or something'."
It was at this point that Hannah could feel her instinct telling her something wasn't right and not to go. Mark seemed like such a great guy and Hannah couldn't put her finger on why she felt this way.
"I laughed it off and continued to walk to his car but when we got there I felt the same uneasy feeling and said I wasn't going. He grabbed me by the arm and for a split second I saw a hint of menace in his face but it passed so quickly I thought I was being silly. He gave me a hug and said he understood and when he drove off I stood there wondering why I had been so stupid."
The Scary Truth
"I never saw Mark again and although at first I was annoyed that he wasn't returning my calls, I soon moved on. Then, 2 months later I turned on the TV and was left speechless. Mark, which wasn't apparently his real name, had been linked to a string of attacks on young women. He had lured them into his car and sexually assaulted them."
"I burst into tears and rang my Mum. I wanted to thank her for pushing me to always trust my instinct, however unlikely or silly it may seem. I have struggled to deal with how close I became to being one of those girls and how easily it could have been me. I would urge anyone to trust their instinct at all times as I know it's what saved me from a horrible ordeal."
You might also like...