Weekends Away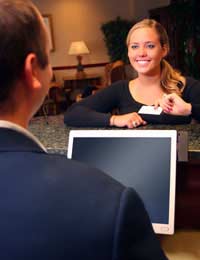 A romantic weekend away is a significant step in any relationship, but just as you plan every detail of your days – where to go, where to stay, how to get there, etc. – you'll also want to plan every detail of how you intend to stay safe. Sadly just because a weekend is meant to be romantic doesn't guarantee that it will be, and should anything less than wonderful happen you'll want to make sure that you're protected. Leave a copy of your plans with friends at home, keep track of your own possessions, carry emergency contact information with you and don't let things get out of control simply because you are out of your own environment. When you get home safely you'll be glad you did!
Copy Your Plans
There's no reason you need to tell your friends what you have planned for every single second of your weekend away, but leaving them information pertaining to your general itinerary is a smart move. Information about your transportation (for example, a flight number and operator) and accommodation (contact information for a hotel) would also be helpful if they need to track you down. If you are going abroad for a weekend, consider adding contact information for the nearest embassy or consul and leaving a photocopy of your passport as well. Finally, don't forget to scribble down contact information for yourself, your significant other and even a family member just in case there is a need to get in touch.
Keep Track Of Your Own Possessions
Weekends away can be so breathtaking that you lose track of time, but don't lose track of your possessions. Passport and other identification documents, travel documents, financial documents and any other sensitive information that you might be carrying should remain in your care throughout your weekend. If you prefer to use a safe rather than physically keep an eye on it, that's a great idea so long as you know the code and can access your possessions whenever you want.
Carry Emergency Contact Information
No, it's not tempting fate to carry emergency contact information just in case you will need it. On a small slip of paper (think small enough to fit in a pocket or wallet) write down contact information for a trusted friend or family member, any organisation associated with your travel plans (airline, accommodation, rental car, etc.), your financial institutions, the nearest embassy or consul and any friends or family that might be in the area you will be visiting. If you can squeeze it them on the sheet, considering adding your GP's name and number or that of any specialist who you see regularly. Even if nothing happens on your weekend it's better to have these numbers and not need them than the other way around.
Stay In Control
Weekends away sometimes invite personally risky behaviour both because you might be caught up in the moment and because you want be interested in impressing your partner. As a general rule of thumb, if you wouldn't do it at home then don't do it while you are away – particularly if it involves a camera or video camera! You never know what will come back to haunt you, and the less proof of your bold actions the better.
Going on a weekend away with a romantic partner is usually an exhilarating event, but in your enthusiasm to get going remember to plan how you will keep yourself safe. Leaving a copy of your plans with a friend, keeping track of your own possessions, carrying emergency contact information and staying in control of yourself are all smart ways to make sure that you leave as safely and securely as you arrived.
You might also like...