Holidaying Together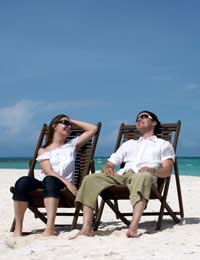 When you're falling in love the idea of holidaying together with your new partner seems like you're being asked to journey to heaven on earth. Unfortunately if you don't observe proper safety procedures this heaven could quickly turn to hell should anything unseemly occur.
By all means book a getaway with your new sweetie if that's what you want, but make sure to take proper steps to protect yourself as well. Leave a copy of your itinerary, passport and all contact information with friends at home, hold onto all of your own identity, travel and financial documents while you travel, and make sure that you keep a list of emergency contacts with you at all times. It may not be very romantic, but being practical will make your life a lot easier should you get into any trouble.
Trust Your Friends
Your friends will no doubt want you to have the time of your life on holiday, but they'll want you to return home safe and sound as well. Leave copies of your travel itinerary, your passport information and all contact information both for you personally and any tour operator with which you may be travelling, any transportation company that you will be using and any accommodation at which you will be staying. Tacking on the contact information for the embassy or consul in the area to which you are travelling won't do any harm either, nor will throwing in contact information for how they can get in touch with a family member if there is a need for that. If they don't have basic information such as a mobile phone number for your partner, go ahead and add that in too. All of this information should fit neatly onto one or two pages so don't worry that you will be burying anyone under an avalanche of paperwork.
Hold Your Own Documents
It can be tempting to hand over your important documents to someone more reliable when you travel, or to simply lock them up in a safe and forget about them, but the first time you are holidaying together with someone new you should attempt to keep all of your documents either with you or readily accessible to you at all times. Keep your travel information (including tickets, vouchers, confirmation pages and receipts), identification documents (passport, drivers licence, etc.) and financial documents (ATM cards, credit cards, travellers' cheques, local currency, etc.) together in one place and make sure that you can get to it whenever you need it.
If, for example, you and your partner will be putting sensitive documents into a hotel safe, just take a note of the combination and try it yourself to make sure that you can use it as needed. If no safe is available, agree to a plan of keeping your information both protected and available.
Know Your Emergency Contacts
When you are at home it's easy to know who to call in an emergency, but when you are travelling – particularly when you are travelling abroad – it can be hard to know who to turn to when you need help. Avoid feeling helpless in a new place for even one second by getting together a small sheet of emergency contacts before you leave home. Write down information on your tour operator or accommodation, your financial institutions, the local embassy or consul and anyone you know who will be in your new location and could help you should you have an emergency.
Also write down local emergency numbers (not every country uses 999) and telephone numbers that you might usually store in your mobile phone and use quick dial to call. Remember, if you need to call from a pay-phone in another country simply hitting "Mum" won't be an option. Keep this small sheet on your person at all times, just in case.
Holidaying together can be a romantic idea, but it pays to keep your head out of the clouds long enough to ensure your own safety. Protect yourself by leaving important information with friends at home, looking after your own documents while you are away and arming yourself with emergency contact information in your new location. It may not be totally romantic, but it's better to be safe than sorry.
You might also like...