Negotiating a Language Barrier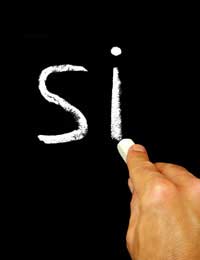 When you are dating trying to decipher mixed messages can be confusing enough, but when they are in another language it gets even harder. Having a holiday romance can be great fun and the foreign language can be sexy and seductive. However, you need to make sure that the language barrier isn't covering up other things and that you stay safe with your date.
Learn the Basics
You are not going to pick up a whole new language overnight but you can learn enough to communicate. Wherever you are going, make the effort to learn the basics before you get there. Know how to say yes, no, thank you, where is…, can you help me, take me to and get away/leave me alone. These few phrases will stand you in good stead when you are trying to tell your date what you want. Don't worry if your accent or pronunciation is not perfect, they will soon get the message.
Use Hand Signals
If you are bad at learning languages or need to try and communicate something that you don't know how to say then resort to the old fashioned method – hand signals. Gestures and actions often speak louder than words and are universal across countries and cultures. Act out what you are trying to say, point to things and use props to help get your message across clearly. You may feel silly but it will help to break the ice and get you what you want.
Check Their Body Language
Your new date may seem very suave and sexy with their foreign accent but don't get swept off your feet too quickly. Pay attention to their body language as this can say a lot about a person. Do they seem open and friendly or do they have an aggressive or possessive stance. Look at how they interact with others and consider what you would think of this person if you were dating them back home.
Trust your Instinct
Even if you can't speak their language and are struggling to communicate with them, the one thing that you can rely on is your instinct. Never ignore your gut feeling as it is there for a reason and will warn you of any danger. If a situation doesn't feel right then it probably isn't so don't put yourself in any danger. Stay in public places and know where you are staying and how to get back there. Use your basic language skills or actions to tell them to leave you alone or signal for help.
One of the sexiest things about dating someone foreign is their accent and how inviting things sound in another language. Don't let this get you too carried away though and always think about staying safe. Try to learn the basics of the language and a few key phrases so that you can communicate. If this doesn't work then resort to hand signals. Finally, check their body language to see if they seem trustworthy and always listen to your instinct as it is there to protect you.
You might also like...