How to Avoid Seeming Desperate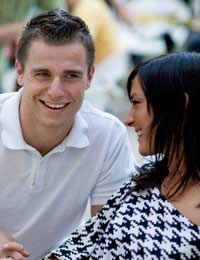 Being desperate is just not sexy. End of story. Your date wants to enjoy themselves and your company, without being bombarded with tales of woe. So take a look at the most common mistakes and make sure you are not making any of them. If you are; it's time to reassess your dating behaviour.
Exes
Big mistake. Huge mistake. Do not talk about your exes on a first date, or even a second or third. Your new date wants to feel special, as if they are the only person in the world for you. Ok, we all know this isn't true and that we all have exes, but there is no need to draw attention to this fact. Especially if it was a bad break up. You may think it compliments your date to rant about your ex and how bad they were, but it really it doesn't. It just makes you look bitter, obsessive and to be honest, slightly scary.
Babies
This is one for the girls – nothing is less sexy than picking out baby names on a first date. Yes, you might think this is the man of your dreams and he would make the perfect daddy for your future hoard of children, but for goodness sake don't tell him. There is nothing more likely to make a man run for the hills than telling him all about your dreams of a big house in the country with 2.4 children and a white picket fence. Play it cool. This is the stage when you need to use your feminine wiles to draw the dream man in, not scare him off. Wait until you get home and tell you girlfriends all about your happily ever after fantasies – not your date.
Putting Yourself Down
If you have a really big spot on your nose or tiny breasts or a pot belly, why draw attention to it? Most the time the flaw is far more noticeable to you than anybody else, but for some reason people feel the need to highlight their bad points. If you don't tell them about it, they'll probably never notice.
Also, the sympathy vote rarely works. This is often a male thing. Why do you think by telling your date you are unfit/bad in bed/ hopeless with women/a slob, that it will make them want to sleep with you? It won't. If you were selling a used car you would talk about its great features and skim over the not so appealing parts. Take the same approach to yourself and let your date decide what they think. You never know, they might just like you.
Sex
Ok. This is a personal one. Some people enjoy sex on a first date or one night stands and there is nothing wrong with that as long as you are doing it for the right reasons. If you sleep with your date to make them like you more, it rarely works out that way. Throwing yourself at someone might make them more interested in you briefly or as a sex buddy but it is not going to make them fall in love with you. Don't mistake the instant connection you feel after sex with anything on a deeper level. There is no reason why it won't lead on to a meaningful relationship but there is also no reason why it will. Respect yourself, your body and your feelings and only do what you feel comfortable with personally, not for anybody else.
Calling
Yes, if you've had a good time don't be afraid to call the next day. Not ten times though, not in the middle of the night and not to leave endless messages. If your date enjoyed themselves too they will call back in good time. If they didn't, constant harassment is not going to make them change their minds.
The best way to not appear desperate is to imagine how you would feel if your date was exhibiting the same behaviour. Honestly, would talk of babies and exes turn you on? Would you want them calling you in the middle of the night? Or telling you how bad they are in bed? Probably not. Be confident in yourself and what you have to offer – it's a whole lot sexier.
You might also like...