Is He My Boyfriend Now?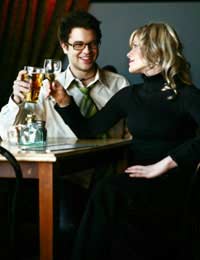 The rocky road into a relationship can be hard to navigate. It is that uncertain time when you don't know quite how your date feels about you, but are too scared to ask. Don't presume that they are thinking the same thing as you though. As we well know male and female brains think very differently and making presumptions is always a precarious route.
Don't Rush
Dinner's over and you've moved onto drinks at the bar. Your date leans over and asks you what you'd like. "You as my boyfriend" you reply. Nothing will scare off a potential relationship quicker than trying to run before you can walk. There is plenty of time to have the 'where is this going' conversation without jumping straight into it on the first date. Take time to get to know each other have a bit of fun and enjoy each other's company before trying to pin down exactly what your relationship status is. One of you may take longer to reach this stage than the other so be patient. However, if you have been seeing each other for a long time and you still can't pin them down to 'that conversation' maybe it is time to be firm but fair about your intentions.
Be Honest
If you need more time, say so. If you want to become exclusive, say so. If you really aren't looking for a proper relationship, say so. Honesty really is the best policy when navigating your love life and if you don't ask, you simply don't get. Having said that, you need to be receptive to the other person's feelings too. Be ready to be patient, understanding and willing to step back and give the other person time to decide. If you find you are both on different pages and can't find a middle ground then be honest with yourself also and know when it is time to step away.
Talk About It
In any relationship there are always many underlying issues that affect our interactions. Past relationships, difficult break ups, upbringing and attitudes all play a part in forming our opinions and outlook as we move forward. None of us are mind readers and it is difficult to understand what someone else is thinking without asking them. Don't put pressure on your date to share their innermost feelings but by discussing your past, present and hopes for the future you will gain a better impression of where you stand.
Don't Involve your Friends
Back in school all dating negotiations were handled through your friends weren't they? It started off with 'my friend fancies your friend' and then after a quick kiss behind the bike shed progressed to 'so what does your friend think about my friend'. Even breaking up was often handled by a third party.
In the grown up world of dating this is not the way to handle it. Involving friends on either side only makes things more complicated and pressurised. If you need to confide in your friends do so, but try to avoid involving any mutual friends in the fray. This isn't school anymore and it is you two that have to live the relationship, not your friends.
So, is he your boyfriend now? Only you can find out. Be clear about what you want and discuss your feelings openly and honestly without any ultimatums or tantrums. Dating is a very personal issue with each person moving at their own pace. Be sensitive to you date's feelings but don't be cajoled into anything you don't feel comfortable with.
You might also like...