Avoiding Awkward Silences on a First Date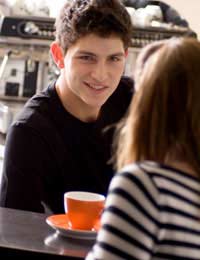 You stare at your feet trying desperately to think of something to say. He tugs at his shirt collar as he feels the pressure mounting. There's nothing worse than an awkward silence, especially when it's with someone you are trying your hardest to impress. Unfortunately first dates are often full of them, but it doesn't have to be that way. Keeping the conversation flowing isn't as hard as you might think; you just need a bit of planning.
Ask Lots of Questions
It's sad but true that there is no subject people prefer talking about more than themselves. So indulge your new date by appearing interested and engaged in what they have to say and asking plenty of questions about their life. Now, you don't want to sound like a reporter or interrogator in your questioning so give them time to relax and try to follow up with questions related to what they have been telling you.
Here are a few to get you started:
Where did you grow up? Do you prefer the city or the country?
What's your favourite meal? Do you enjoy cooking?
Who is your favourite film star? Who would you want to play you in a film of your life?
What did you want to be when you grew up? What are your aspirations now?
How many brothers and sister do you have? Are you close to them? What do they do?
Think of Topics in Advance
You don't need to turn up with a bullet pointed list but in the wise words of the boy scouts - always be prepared. By thinking up topics that will interest you both before your first date you will have more to draw on. In the age of myspace, it easy to research people's interests without asking. So do your homework and you should be rewarded with plenty to talk about. Here some ideas for topics that will keep the conversation flowing:
Music and TV
Favourite holiday destinations
Books and films
Hobbies and pastimes
Family
Create a Distraction
Going to see a film or a gig is a great way to give you something mutual to talk about afterwards and take the pressure off part of the date. Or choose an activity such as bowling or ice skating where you don't need to talk all the time and there is something to break up the conversation. Why not try one of these:
Go and see a film or rent a DVD
Go rollerblading, bike riding or ice skating
Go bowling or to a funfair
Make a Joke of it
There is nothing better than humour to diffuse a difficult situation. So if an awkward silence does raise its ugly head, just laugh it off. It will show that you are easygoing and not afraid to laugh at yourself - both qualities that are appealing in a future partner. It will also help to put the other person at ease and calm the atmosphere.
Have a Get Out Clause
If things are going really badly or you really need some help it is always good to have a back up plan. That doesn't mean you have to do the whole fake emergency phone call or text from a friend in a crisis though. It doesn't do any harm to have friends out at a different place and suggest you go and meet them or arrange for a friend to casually drop by and you can invite them to join you.
So plan ahead, ask questions and give yourself a fighting chance but if the date is terribly awkward and you really can't think of anything to say, they are probably not the right person for you anyway.
You might also like...