Dating Etiquette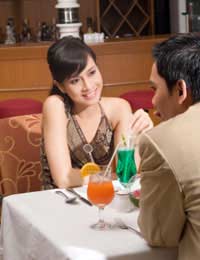 Who should pay? Should men open the door for women? Should you kiss on a first date? When should you call? There are so many unwritten rules of dating that it is difficult to know if you are breaking any and if it really matters.
With many women earning more than men nowadays, etiquette should have shifted accordingly, however these levels of equality don't always translate into the dating world. There is still a lot of space for old fashioned manners and gentlemanly gestures.
On the First Date
First impressions count, it's true. This is the time to pull out all the stops and show exactly what a wonderful person you are. In the days of equality it's polite for the girl to offer to pay, but the man should still pick up the tab. Sorry guys, but girls still appreciate being wined and dined with some traditional touches. In the same way, it is good for the man to open doors and show their gentlemanly side.
Should you kiss? Well this one really is up to you and is an aspect where traditional values often go out the window. Do what you feel comfortable with.
After the First Date
Some say call straight away, some say leave it a few days, some say make them chase. So what's the real answer? Go with the flow. If you feel like calling your date the next day, just do it. The chances are if you had a really good time, so did they and they will be happy to hear from you. As for who should call, it really doesn't matter. Just call.
When to Get Intimate
This is a very personal decision and varies greatly for each person. Some people may decide not to kiss on the first date while others might hit the sack. Either way you have to be honest with yourself about what you want and respect your date's decision. It is true though that not getting intimate straight away builds suspense and helps you get to know your date better.
Establishing a Relationship
This is probably the most confusing part of dating. Should you date other people? How do you decide to be exclusive? It can be difficult to approach this subject but it is important to know where you stand. Many men fear the 'where is this relationship going' conversation, so bring it up casually. State what you are hoping will happen and then be patient for your date's response. Give them time to decide to commit, but if it feels like they are trying to lead you on, be firm about your decision.
Breaking Up
Whoever does it and however it's done, this part is never much fun. If you do it with respect and understanding though at least each party can retain their dignity and move on. As much as you may dislike the idea, it is always best to break up face to face. Never do it by email or text message, this is just cowardly. Take the person to a neutral spot - a busy bar doesn't count. Explain yourself simply and clearly, being as honest as you can without dishing too many hard blows. Be sensitive to the other person's feelings but stick to your decision. If you are the one being dumped take deep breaths and try not to retaliate. Say anything you need to in a calm manner and leave the situation as son as possible.
Of course, just to make it a bit more difficult, everyone has there own ideas of what should and shouldn't be done. Your best call is to try and learn something about your date and adapt your actions to what you think they would expect. Be yourself – only better!
You might also like...