Different Date Ideas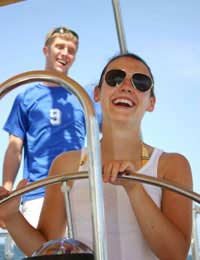 Yes dinner and a film is nice but like anything in life, doing the same thing over and over again can get a bit boring. So why not shake it up a bit and try something new. Not only will it break the monotony, it will score you serious brownie points with your date – always a good thing!
The three main things to think about when planning a new date are:
Think about what they like
Choose something you enjoy
Check the weather
By tailoring your choice of activity to your date, you will prove you have been listening, understand their interests and are thoughtful about meeting their needs. Having said this, it needs to be something you will enjoy as well; otherwise you won't make a very good impression. Thirdly, although it may sound obvious – check the weather. A romantic picnic on a secluded beach isn't quite as impressive in the rain.
Cultural Dates
Cultural dates are great because they give you a lot to talk about. By seeing and learning new things together, not only does it bond you but it brings up topics of conversation that might not have covered otherwise. They are also good as an icebreaker date to give you a mutual experience to discuss and interesting things to take the pressure off having to talk the whole time.
Museum
Art Gallery
Opera
Trip to a castle
Piano recital
Active Dates
Instead of just sitting in a bar, get out in the fresh air and enjoy something a bit more active. An active date gives you a chance to relax and have a bit of fun. It will help loosen you both up so you don't feel as nervous.
Horse riding
Tennis
Sailing
Rollerblading
Bike ride
Intimate Dates
If it's time to make the big move or you just want to up the intimacy level with your date then choosing one of these ideas will put you well on your way. Intimate dates are all about setting the scene. Whether this is by physical contact when dancing, a romantic atmosphere like star gazing or just spending some time together away from anyone else.
Picnic
Cooking class
Dance lesson
Star gazing
Wine tasting
Special Dates
Now this is where you score the real brownie points. Special dates don't have to be about spending a lot of money. In fact, your date will be a lot more impressed about the time, thought and effort that has gone into planning it. Take some time to think about what your date would like to do, not what you think they might like. Have they mentioned a band they love? Have they talked about something they've always wanted to do or somewhere they would love to visit? The key to a special date is to take your inspiration form the person you are trying to impress.
Tickets to their favourite band/football team
A home cooked dinner
A daytrip to the beach
Hot air balloon ride
A weekend away
Step away from the usual haunts, put on your thinking cap and come up with something a little bit different for your date – the extra effort won't go unnoticed.
You might also like...