Stalking and Harassment after a Date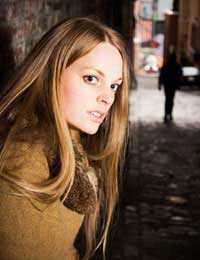 Everyone loves to be admired but when the attention gets out of hand and you are being constantly contacted or followed then you need to take it seriously. Any form of stalking or harassment it not flattering but worrying and needs to be dealt with before it becomes serious.
Don't Give out Your Details
It is easy to be persuaded that someone is trustworthy and harmless. However there is no need to give out personal details to your date such as your address where you work or your home telephone number. By disclosing this information it makes it a lot easier for your date to harass you. By communicating through email or your mobile phone you can keep yourself fairly anonymous and wait until you feel comfortable giving out any further details.
Don't Accept it
Harassment isn't flattering, it isn't normal and it is not acceptable. If someone is paying you unwanted attention or constantly contacting you then you need to tell them to stop. Be clear and firm in your communication and tell them that if they do not stop then you will be contacting the police. If you do not feel comfortable doing this alone, and cannot do it over the phone then take along a friend and make sure you meet in a public place.
Keep a Log
The best way to record all the unwanted phone calls, visits and anything else that your stalker is doing is to keep a log. Every time they do something clearly write down the date, time and action in a notebook. This way if you decide to contact the police you have an easy way to show them all the harassment. It will also help them to trace phone calls if they have the date and time of when they were made.
It can help to tell your stalker that you are keeping a record. By showing that you are taking their actions seriously and are able to prove their harassment it may scare them off or make them think twice about what they are doing.
Tell Someone
If a date or anyone else is stalking or harassing you then it is important that you let someone know. If you don't want to contact the police initially then confide in a trusted friend or family member. Tell them who the person is, what they have been doing and what their contact details are. That way, if something serious happens they can alert the police. The best course of action though is to contact the police yourself. While they may not have enough evidence to do anything they will keep a record of your complaint and may even go round and have a talk with your harasser. This might be enough to make them stop and if not at least there will be an official record if it continues to escalate.
There is no need to feel guilty or silly about reporting a stalker, however innocent it might seem. If the attention is unwanted or makes you feel uncomfortable then confront the person about it. If they still do not stop, keep a log and alert the police. It is much better to report it too early, than too late.
You might also like...