Basic Self Defence Moves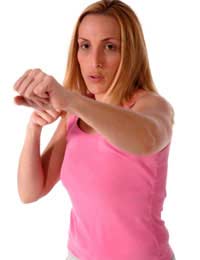 You may do all the things you can to avoid needing self defence – avoiding dark areas, having your keys ready when you get to your car, carrying a safety alarm – but unfortunately nothing can protect you completely from an attack. Although you hope it never happens to you, it is important to know some basic self defence moves in case it does. Being prepared is the best defence, so take a look at these simple moves that could make all the difference.
Use Your Voice
Shout, scream and make as much noise as you can to draw attention to your attacker. Be loud, confident and shout at them as well as about them:
"Go Away"
"Get off me"
Also shout for help but use specifics, not just "help" as this will often be ignored. Instead use:
"I'm being attacked"
"Call the police".
Make A Weapon
While it is not a good idea to carry a weapon with you, you can factor one out of what you have. Keys or rings can be very sharp and make a big impact if thrust into an attacker's face or eyes. A hairspray or deodorant sprayed into their eyes can also be effective, as can high heels to stamp on their feet or shins.
Stomp, Kick and Push
You may not be stronger than your attacker but you can still inflict enough pain to make them recoil. Stamp on their feet and kick them in the shins to make them jump away. If they have you from behind, push your head hard back into their face. If they are holding you around the neck then do not go for their hands but with all your strength push their elbows away.
Go For Sensitive Areas
The more sensitive the area of their body you go for, the more effect it is going to have. Their groin is a great place to attack. Don't kick as you may lose balance but bring your knee up swiftly or use your hand to grab it with all your force. The eyes are another area to attack. Stick you fingers in them, spray something at them or use a ring or keys to cause damage.
A Means of Escape
Any self defence method used should not be to try and hurt your attacker or as any kind of revenge but just to give you enough time to escape. When you do get away run to the nearest public place continuing to shout as loudly as possible. Don't worry about your valuables, bag, or clothing, just get away.
You do not have to be a martial art expert to deliver some effective self defence moves to your attacker. Concentrate on mustering all your fear and anger and impacting it on your attacker physically. Aim for their most sensitive areas and weak points of the body such as joints, eyes and the groin area. Nobody wants to be in a situation where you have to escape an attacker but if you are, be as loud, awkward and painful to deal with as possible.
You might also like...