How to Avoid Being Date Raped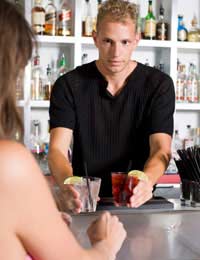 As little as five years ago no-one had really heard of being date raped, but unfortunately the drugs are becoming more available and more widely used. Having your drink spiked is a scary prospect and your best defence is to stay alert and know where your drink is at all times.
Watch Your Drink
We've all done it. Everyone has left their drink on the side while they go off to dance or to the toilet. It may seem like no big deal but just leaving your glass unattended for a few minutes is plenty of time for someone to drop something into it.
Attackers will look for the slightest chance to spike your drink so make sure you don't give them one. If you are going to dance then finish your drink beforehand or leave it with a trustworthy friend. If you need the toilet then do the same or take your drink with you.
Buy Your Own Drinks
Every girl likes a guy to buy her drinks; it is part of the unwritten rules of dating. However, this is the perfect opportunity for a perpetrator to drop something in your drink before you've even had a chance to watch it. Ideally the best defence is to buy your own drinks but in reality that's not always going to happen. If someone offers to buy you a drink then go with them to the bar or have a bartender bring them to the table.
Stay in Control
Watching your drink is the best way to avoid being date raped but as the evening progresses and you drink more, your attention wanes. The more you drink the more vulnerable you become. Alcohol lowers your inhibitions which can make you feel more confident on a date but it also lowers your defences so be sensible and know your limit.
Pay Attention
People who have been date raped describe the sensation as feeling very drunk or unusually tired when they haven't had very much to drink. If you begin to feel like this then don't dismiss the symptoms but pay attention to the signs. The drugs take effect very quickly and your attacker will probably try to get you to leave the bar pretending that you are drunk and they are going to look after you.
Alert Someone
If you do feel uncharacteristically drunk or out of control then tell someone. If you don't have a friend with you to help then alert a bartender or security guard – anyone that can be trusted to get you home safely. Try to do this without letting your date know so that they can't pretend to look after you. Tell the bartender or security guard that you think your drink has been spiked and who the potential perpetrator is so they don't let them take you home.
While being date raped is fairly rare, more instances are occurring and the best way to protect yourself is to be aware and alert. Here is a checklist to follow:
Never leave your drink unattended
If someone is buying you a drink go with them
If you feel unusually drunk pay attention
Tell someone
Date rape is a terrible and devastating crime, but as long as you stay aware of what is going on around you, you can put yourself at much less risk.
You might also like...